A Business Lookup into the Features Provided In LMS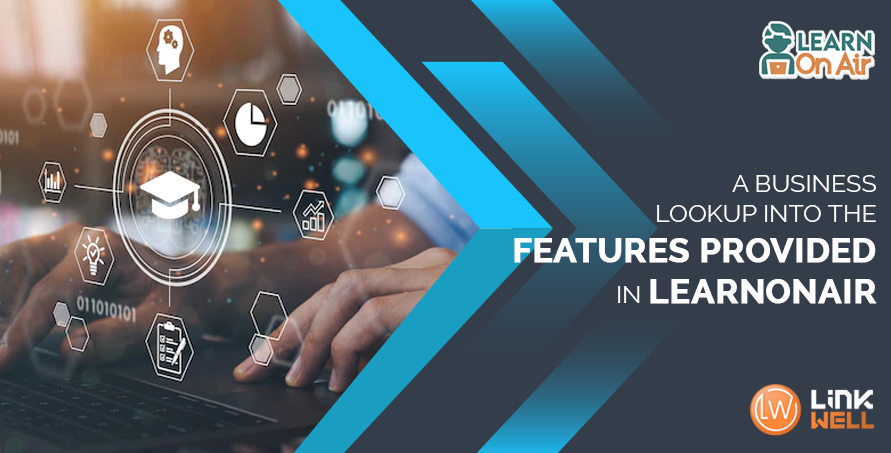 With the evolution of the internet, learning management systems have become a standard. The LMS is an online system that can be used by different organizations and educational institutes to increase their communication gaps. It has been found that these systems are mainly used in schools to manage all the student records, their grades and also for other things such as tracking attendance and scheduling classes.
LMS stands for Learning Management System and was developed to help individuals administer, track, report and deliver learning programs online. LMS gives students and instructors a stage on which they can highlight their skills wherever, whenever, and however they want. LMS has a wide variety of features that are beneficial for both the instructor and the learner. Their features include course management, content delivery, reporting and analytics, e-learning authoring tools, assessments and more. This facilitates learning and provides a platform for students and instructors to grow their skills in a convenient manner.
There are almost all the major markets covered by LMS, including schools, educational institutions, corporations, the medical industry, etc. and ensures that the instructor and the student have a clear understanding of each other by checking quiz and assessment results.
Learning Management Systems (LMS) are the backbone of online and blended learning programs these days. These systems offer a variety of capabilities such as delivering content, tracking student progress, providing feedback, hosting discussions and more. The two main types of LMS are:
Installed LMS: Installed LMSs reside on the premises of your company whereas cloud-based LMS s are hosted on a third-party cloud infrastructure. The benefits of using an LMS are numerous and vary. The primary benefit is that it should provide a convenient and efficient way for students to access course content, track their progress and receive feedback. Learning management systems also help educators to deliver material in a more engaging and meaningful way – with more visuals, animation, games and much more.

Cloud-based LMS: Cloud-based learning management systems have been on the rise for a few years now. It is known that cloud based LMS are affordable and cheaper compared to the other type of LMS. In a nutshell, an LMS is a software application that enables educators to manage and deliver online courses. That said, there are a variety of different LMS solutions available on the market which can make choosing one difficult.
In this blog post, we'll provide an overview of what to look for when selecting an LMS, as well as some specific recommendations.
It's no secret that everything in the world today is online. Even educational platforms, corporate, business, healthcare, etc. are choosing the internet for their teaching and learning purposes since it saves them time and money. The Learn on Air app enables experts from different niches to create their own courses and course materials and offer them to the public either for a fee or free of charge, unlike traditional academic programs. Here are the most important features that every LMS must have in order to function properly and enhance the user experience.
LMS integrations: Learning and development professionals can supplement learner information with important course completion data by integrating the LMS with other systems like association management software and talent management systems.

Data Tracking: Learning professionals are able to track a learner's journey using stored data, enabling them to gain a better understanding of how the courses and learners are performing.

Personalized user experience: In order to engender wider adoption, an LMS should provide any content based on the learner's preferences that can be known through the history within the software, as well as their position. If an LMS is tailored to a user's learning preferences and/or job function, they become more engaged in the process.

Learning Materials: Providing LMS that can accommodate videos, slide decks, written instruction, and various other learning materials in a centralized, user-friendly location is crucial to increasing engagement for users and L&D pros. Material matters a lot when it comes to learning because without proper study materials how will a learner start learning. So for that Lear On Air provides quality content with various courses on different topics.
"Solve the Major Issues faced while Training with Udemy Clone App – Learn On Air"
Having business is not easy as it requires a lot of training and development. Training your employees can be difficult when it is a huge industry business and you can train a hundred employees at once or in one room so for that convenience LMS stands as the best solution. Making a final decision often requires input from multiple stakeholders in the business, as there are many LMS providers out there but you can opt for the best LMS available that is Learn On Air.
Advanced Features that Feature-rich Learn On Air provides:
Bootstrap Responsive Design
One tap Social Login
Forum Management
Payment Gateway
User Management
Email Settings
Internal Management System
Social Sharing
SEO Friendly
Secure and Convenient
Instructor Credits
Page Management – CMS
Multi-language Setting
Blog Management
Notifications
Test, Quizzes and Course Certifications
Course Discussion & more.
Learn On Air has many use cases including Onboarding, Employee Training, Virtual Classroom and Compliance Training. It is the best solution for any industry use and can be owned by any business. We offer end to end support and solutions once you have purchased the app. Our team is available, you can contact us anytime.
We also provide the following services:
Free Installation Service
Free service to change the app
Social login setup and configuration service
Replacement of the brand logo.
For additional inquiries, feel free to contact our support team at support@linkwellsystems.com