An Entrepreneurial Business Opportunity with Online learning Platform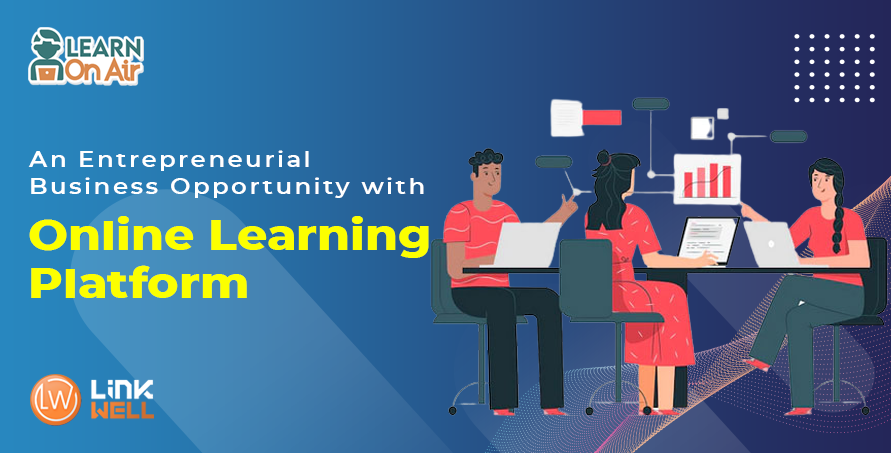 E-learning resources have become a prominent part of the world today. As technology advances, so does the need for online education. Education has always been a part of any organizational growth. With that being said, today many online platforms have taken up the opportunity to make the learning process easier than the traditional method of learning and teaching. With online courses available on a variety of topics, there is no shortage of information to be found. These courses can be taken at any time and in any location, making them a perfect resource for anyone who is interested in learning more about a new and relevant topics without having to make any issues with traveling to the center.
Such platforms that offer online learning are in huge demand today. People have somehow adopted this new way of teaching and learning. Students find it very comforting to study at their own pace and place. The teachers are quite developed with the new technologies that are being used to make this process easy and efficient. Parents find it very convenient as they do not have to take out some extra hours from their busy schedule and travel to drop and pick their children up from the schools and colleges. Businesses are trying to make it a tool for their business to succeed. Even before the COVID-19 scenario, online learning platforms were making a good tool for the learners such as the trainees in the corporate world and were growing steadily.
Entrepreneurs can take a huge advantage of the online training platforms due to the flexibility. Everyone is busy in their lives today. There is less possibility of a businessman getting some free time to do additional work. In that case, such platforms help them a lot. Since these platforms are accessible anytime, anywhere and by anyone, e-learning is a great option for the entrepreneurs to look upon.
In a recent report, Online Tutoring Market – Forecast and Analysis Report 2021-2025, the online tutoring market is expected to grow by USD 153.07 Billion. It is largely due to high smartphone ownership and improved internet infrastructure that this astonishing growth has been achieved.
Entrepreneurs should look at these business ideas in order to make their business victorious!
Online tutoring: This is a lucrative education business idea that does not demand any high investments or expenditures. With the rise of digital learning, it's becoming increasingly important to have access to knowledgeable teachers, especially in subjects like mathematics, science and English. And with the ubiquity of internet access, there are now more opportunities than ever for tutors to reach out to students and offer their services on any schedule they choose to.

Online Home Schooling Services: You might have heard this term before, in earlier days when there was no access to the internet at home, Tutors would come and meet the students at home and teach them the syllabus just like they do in schools. The services are still the same but with a major change that is virtual classroom. Now with the help of these online learning platforms a.k.a. virtual classroom software, parents are quite relieved from the stress of their children education because they guide their children at home to attend the virtual classes which teaches them the same syllabus that they have tight in schools.

Online Library: What do you call a person that loves reading books and always spends their leisure time in the library reading novels or science fiction? A bookworm. Library is a place where people get a variety of books and they can read any book they want. Well, virtual libraries are also the same with digital books available for the readers to read. This is a powerful business idea because in huge libraries the readers may find each and every book but in certain libraries there are no such books available. But in a virtual library you can comprise a huge range of every category books such as academic books, dictionaries, magazines, encyclopedia, action and adventure, classics, comic book or graphic novel.

Online Courses: Creating and uploading courses on a digital learning platform is one of the most profitable jobs. Most of the teachers and instructors have begun to make their own courses and upload them on platforms such as coursera, udemy, lynda and other related platforms. These platforms pay a good amount to the course creators and let them manage the course. They can also monetize it or simply upload it for the students to use for free of cost. One such platform to create and upload courses is Learn on Air. It is a learning management system that promotes learning and teaching by providing the students and the teachers a platform where they can communicate easily and take the teaching and learning process to the next level.
Learn On Air is an udemy clone app that provides an all-in-one platform for entrepreneurs, business owners, students and teachers.
Even educational platforms are choosing the internet for their teaching and learning purposes since it saves them time and money. The Learn on Air app enables experts from different niches to create their own courses and course materials and offer them to the public, either for a fee or free of charge, unlike traditional academic programs.
The up-to-date features of Learn On Air includes:
User Panel
Instructor/tutor Panel
Menu Management
Email Management
Course management
Push Notification
Admin Panel
Advanced Search Options
Social Media Login
Multiple Payment Gateways
With Learn On Air, you can now easily do onboarding, employee training, virtual classrooms and compliance training. It is a solution that can be used by businesses of any size and any industry and can be owned by any business, anywhere in the world. We offer our clients end-to-end support and solutions after they have purchased the app. Our team is always available to help, you can contact us at any time.