eLearning Marketplace 2.0: How Our Udemy Clone Script Boosts Engagement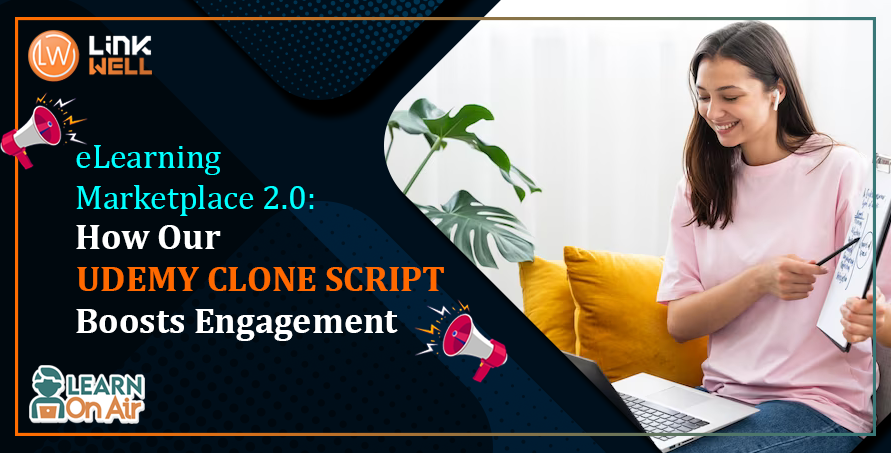 Unlocking learner engagement is the cornerstone of a successful eLearning platform. Course marketplaces like Udemy are more successful because they had what people searched for!  During the pandemic, people looked for easier and more scalable ways to learn new skills in the comfort of their homes, Udemy served what people needed! With a boom in the elearning marketplace platforms, many entrepreneurs were looking for a fast to market solutions! That's where our Udemy Clone Script shines. From launching an eLearning platform instantly to seamlessly integrating advanced features and user-centric design, our script redefines the eLearning experience.
Easy to use and Mobile Friendly
Udemy Clone Scripts prioritizes user-friendly navigation, and an easy user journey making it effortless for learners (of all ages) to explore courses, access materials, and track their progress.
Online Assessments
Udemy Clone Scripts have in-built features for adding online quizzes and assessments. As an instructor, you can engage learners with interactive quizzes, assignments, and challenges that test their understanding and provide real-time feedback.
Gamification Elements
Udemy Clone Scripts are more scalable and are compatible with adding gaming elements and other interactive updates. From badges to leaderboards, gamification elements motivate learners to complete courses, fostering healthy competition, winning rewards, and driving participation.
Personalized Learning
Learners enjoy tailor-made experiences, receiving recommendations based on their preferences, progress, and goals. Also, the push notifications and other features guide each and every student personally.
Peer to Peer Discussions
Discussion forums and live chats enable learners to connect, share insights, and collaborate, enhancing the sense of belonging. Udemy Clone Scripts have social media integrations and discussion forums to cultivate a healthy peer-to-peer learning experience.
Multimedia Integration
Udemy Clone Scripts supports a variety of multimedia formats, such as videos, pdfs, gifs, animations, live classroom sessions, and downloadable resources, catering to diverse learning styles.
Responsive Design
With a highly responsive design learners can engage on any device, ensuring flexibility and accessibility, which are key to maintaining sustained engagement. Though the responsiveness doesn't engage directly in boosting user engagement, the user experience with the highly intuitive and adaptive learning sessions makes them stick to the courses!
Great Insights
Instructors gain insights into learner behavior, where they lack in skills, the part of the lessons they need to relearn, and the courses they like (and provide recommendations based on their user behaviour) enabling them to optimize courses for enhanced engagement and outcomes.
How can the Udemy Clone Script "Learn on Air" help?
Our Udemy Clone Script – Learn On Air reimagines eLearning by empowering learners and instructors to actively participate and excel. Elevate engagement and learning outcomes with our innovative solution – the future of eLearning is here.
Ready to explore the power of engagement with our Udemy Clone Script? Contact us to embark on a journey of enhanced eLearning experiences today.