5 eLearning Trends That Will Shape the New normal Education system in 2021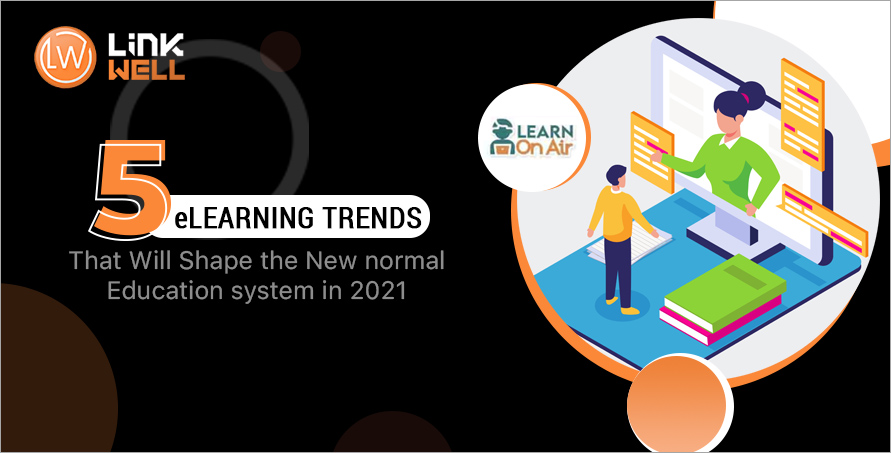 The ongoing technical innovations and transition into a digital world have made it absolutely necessary for every industry to step up and create their online platforms to 'be where their customers are' and the educational sector is no exception. The adaptation of the learning processes in the online mode has especially witnessed a rapid upsurge after the advent of the Covid-19 pandemic and it has led to an exponential growth in eLearning apps and websites for the implementation of digitized forms of learning.
From 2020 itself, the conversion from classroom learning to online learning was unquestionably the biggest trend in the learning and education sector, which has impacted the lives of the students and teachers immensely and eLearning has made a solid foundation for itself, due to which it is here to stay.
5 eLearning Trends That Will Shape the New normal Education system in 2021
Some of the trends that are shaping the new normal in the eLearning industry are
Personalized Learning – Learning is no more generalized to an entire classroom, rather it gives all the types of learners (auditory or visual) a fair chance to understand the subject better, by teasing all the senses – by the audio-visual form of learning.
Virtual Instructor-Led Training – The potential of online learning was only understood after the pandemic. Before that, online teaching and virtual classrooms were synonymous with webinars. Now, instructors are giving one-on-one sessions in virtual platforms like Zoom, Google Meet, Microsoft Teams, etc.
Social Learning – Increasingly being adopted & incorporated by organizations, Social Learning brings about many benefits which includes enhanced knowledge retention, reduced time to learn a topic and excellence in team building.
Providing greater accessibility – Almost everyone these days possesses a mobile phone, and as eLearning has become so accessible through these smartphones, it provides easy accessibility, 24X7 and learners of any age can use it sitting from any part of the world.
Integration of AR and VR – Augmented Reality and Virtual Reality are concepts that give a whole new dimension to online learning and training, which not only makes learning immersive but gives a holistic grasp of the subject to the students like never before.
Learn On Air is the Udemy Clone Script which gives a platform with features and functionalities like Udemy. It can be modified & customized according to the preferences of the users & has plenty of user-friendly features. If you want to integrate these trends into your LMS, then you can opt for Learn on Air. It is very similar to the Lynda Clone Script or the Coursera Clone Script and you can install it for a free & Encrypted Package. For further details, contact Linkwell Systems today!