3 Important Facts that You should know about Udemy Clone Script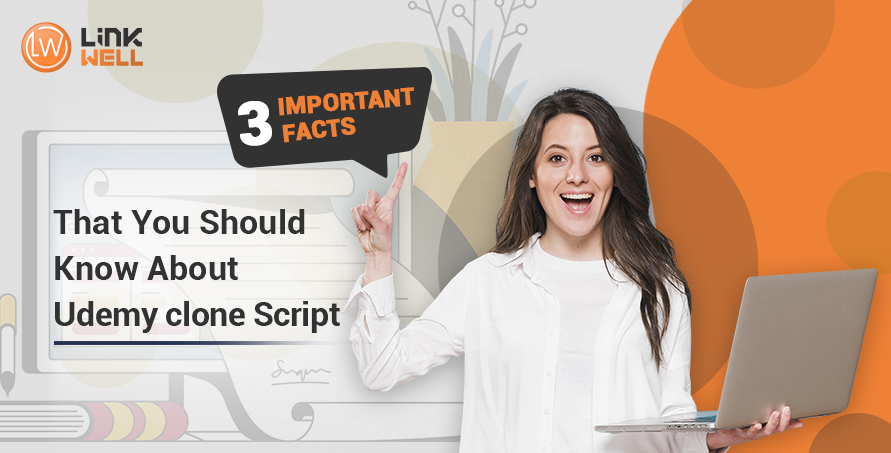 Whether it's learning a new skill while on the job or obtaining a degree in a professional course, online learning is the one-stop for all your learning needs and Linkwell Systems is here to help you with the same!
Because of the numerous advantages of receiving quality education at any time and from any location, online learning is a rapidly growing industry. When tutors volunteer their services and collaborate with cutting-edge technology to improve learning, online learning becomes more valuable.
Entrepreneurs might perceive an opportunity to create an online learning platform that gives students of this age another benefit: a high-quality, efficient learning experience. It is now a full-fledged industry to provide information online, not just through YouTube videos or live tutoring sessions. Entrepreneurs in this business are always improving their platforms with artificial intelligence and excellence in order to make them worthwhile for students to use.
But when you have a udemy clone script or online tutoring script like Learn On Air, you don't require any alternative.
Some important facts you must remember about "Learn On Air", an exclusive virtual classroom software and live course app are:
Affordability Factor – It's a common misconception that developing a Learning Management System necessitates a large financial investment. However, choosing the right technical partner will allow you to develop this software at a reasonable cost. In addition, we offer a free basic version of our "Learn On Air", a lynda clone script to entrepreneurs and we charge a reasonable price for even our premium features. Anyone interested in becoming a part of the knowledge sharing industry can easily start creating virtual learning software.
It is a Future-ready Script – In the learning industry, it is very crucial to be future-ready, as in having new and interesting technical integrations from time to time, adopting new innovations for future generations and maximizing the student experience by making learning very immersive by the deployment of Augmented Reality, Virtual Reality and AI-based assistants, etc.
Extremely Customizable –Learn On Air is the most customizable coursera clone script which can be modified according to tastes and preferences and as they are readymade, they don't even take much time to be developed. It just takes the basic time of personalization and customizing the features that are present.
Summing up
So, if you want to build a platform like Udemy, fast and easy with a low budget, then hire Linkwell Systems now and opt for their featured product "Learn On Air".
For further inquiries or to know more about our other featured products and services offered to the clients, you may contact support@linkwellsystems.com