The Future of Online Learning: How Our Udemy Clone Script is Changing the Game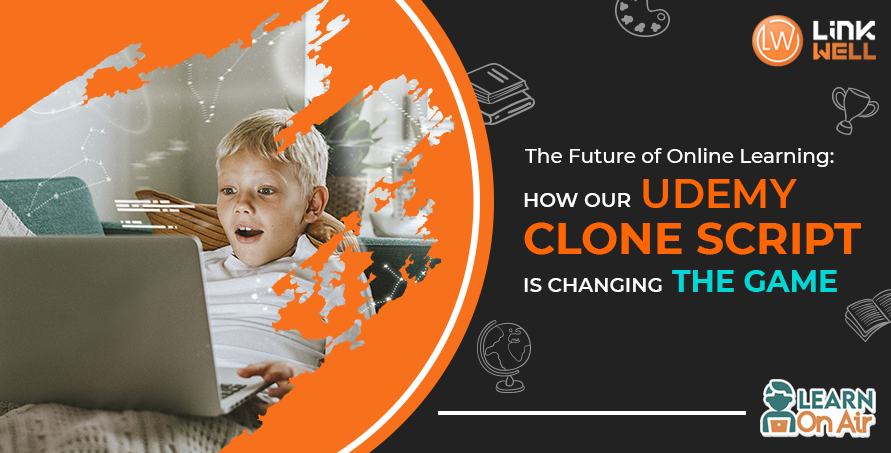 In today's fast-paced world, online learning has emerged as a powerful tool for individuals and businesses to acquire new skills and knowledge. As the demand for flexible, accessible, and high-quality learning experiences grows, our Udemy clone script is revolutionizing the online education landscape. In this article, we explore the future of online learning and how our cutting-edge Udemy clone script is set to change the game.
The Rise of Online Learning:
With technological advancements and increasing internet penetration, traditional learning methods are giving way to online education. Learners now seek the convenience of accessing a vast array of courses from anywhere, anytime, and on any device. Online learning has democratized education, making it accessible to people across the globe, regardless of their geographical location or time constraints.
The Need for Customized Solutions:
While established platforms like Udemy have been immensely successful, many businesses and entrepreneurs are now seeking to create their own online learning platforms tailored to their unique requirements. Our Udemy clone script addresses this growing need by providing a turnkey solution that allows businesses to launch their online learning platforms quickly and cost-effectively.
Features that Set Us Apart:
Our Udemy clone script comes equipped with a wide range of features designed to enhance the learning experience for both course creators and learners.
Intuitive Course Management:

Course creators can effortlessly organize, manage, and update their courses through a user-friendly interface, ensuring seamless content delivery.

Personalized Learning:

Learners can create comprehensive profiles that showcase their achievements, track their progress, and access course recommendations based on their interests.
Secure Payment Gateways:

Our script integrates secure payment gateways, enabling smooth and secure transactions for course enrollment and purchases.
Interactive Learning Tools:

To keep learners engaged, our script offers interactive elements such as quizzes, assignments, and discussions, fostering a collaborative learning environment.
Multi-language Support:

Reach a global audience with multi-language support, allowing learners and instructors to interact in their preferred language.
The Future of Education:
As technology continues to advance, the future of online learning holds immense potential. Our Udemy clone script empowers businesses to stay ahead in this rapidly evolving landscape. From micro-learning to AI-powered personalized learning paths, our script can adapt to the latest trends, ensuring your platform remains at the forefront of innovation.
The future of online learning is bright, and our Udemy clone script is at the forefront of this transformative journey. With its rich features, flexibility, and scalability, it empowers entrepreneurs and businesses to create their own online learning platforms and contribute to the democratization of education worldwide. Embrace the future of online learning with our Udemy clone script and revolutionize the way the world learns. Get in touch with us to launch an elearning platform like udemy instantly!