What are the benefits of developing an advanced LMS with AI?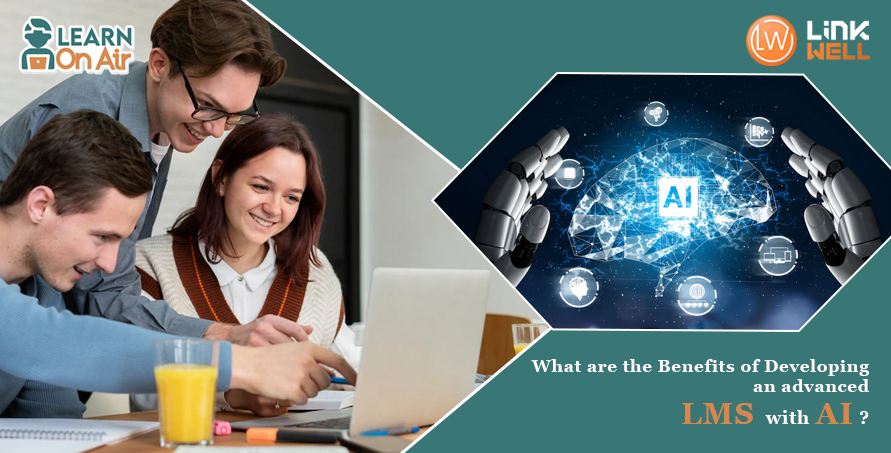 Online learning and training are going to be one of the hottest fields in the next few years. Technology is constantly evolving and adapting to boost everyday efficiency and productivity. Online learning platforms are being created at a breakneck pace, providing us with new opportunities to learn about anything, anywhere, anytime. It has given us the power to connect from around the globe and bridge gaps as soon as they appear. One such advancement is the rise of Artificial Intelligence.
Artificial Intelligence is changing the world. It's a force that has the potential to change our business, drive growth and make our lives better. Artificial Intelligence (AI) is the ability of a digital computer or computer-controlled robot to perform tasks commonly associated with intelligent beings. It's only going to continue expanding in the coming years.
An effective online learning environment is an essential element for learners to access lessons, presentations, training programs, courses, lectures, tests. Artificial Intelligence (AI) driven LMS can improve the overall effectiveness of a training program. AI brings along precision and automation, which can increase the efficiency of learning and development functions significantly.
The following are ways in which developing an advanced LMS with AI can benefit both, trainers and trainees:
Inbuilt Content: Learning Management Systems (LMS) are flexible means to support various training and learning styles. Even though they offer unlimited flexibility, they lack the ability to customize content based on the user's learning style. This is where Artificial Intelligence comes into play. An LMS powered by AI will be able to automatically adapt to learners' preferences and learning styles, creating a more personalized experience while empowering the delivery of training material.
Chat bots: The incorporation of an AI-enabled chatbot can be used as a preliminary touch-point for resolving such doubts. This tool is capable of providing personalized customer service in a time-efficient manner. By incorporating a chatbot to resolve queries and doubts, the learners will be able to receive instant solutions to their questions and doubts. The chatbot is capable of interacting with the learners through text and voice messaging.
Automation: AI allows the Learning Management System itself to develop training modules and even entire training plans on its own. AI can manage all the tasks such as categorization, module distribution, assessment, analysis, reporting, certification, etc. Automation on a large scale can improve the cost-efficiency of training function in various ways.
Virtual Tutoring: Artificial intelligence (AI) enabled tools for virtual tutoring via e-learning platforms can help the learners to interact better. Virtual tutors are an important part of virtual tutoring systems because they provide a friendly face, can be customized to suit the needs of individual learners and can be embedded within virtual classrooms. A virtual tutor can take on different forms. For example, it may take the form of a virtual coach who helps students through mentor-like dialogue. Alternatively, it can take the form of a virtual teaching assistant who provides feedback and guidance.
Customized Learning Experience: Artificial intelligence has enhanced the learning experience and has made it more interesting. With its help, the learners can learn at their own pace without any pressure. In this way, they can develop a habit of learning. With the help of AI, one can search for relevant training courses, select the preferred ones and complete them. AI can even recommend the courses to make them relevant.
Gamification: With the wide application of AI in education, gamification can be further improved to create a more immersive and intuitive learning experience. Gamification involves incorporating gaming elements, such as leaderboards, rewards and badges. The existence of virtual game elements can help students better understand the purpose of education and enjoy learning more.
AI-based LMSs are an important element because AI-based Learning Management Systems have more positive feedback from business owners, employees and students than LMSs without AI. Learn On Air is an AI-based LMS with the Advanced features and e-learning tools. Explore the live demo to understand how Learn On Air can benefit you.
For additional inquiries and details, please contact support@linkwellsystems.com