Top Benefits of using AI in Online Educational System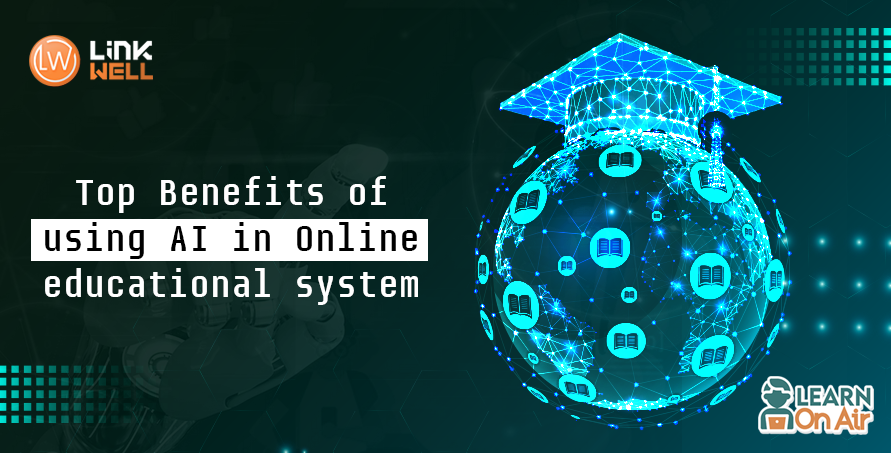 With the increasing rate of technological advancements in all industries from e-commerce to healthcare, there are new methods and techniques that are emerging in the field of Artificial Intelligence and Machine Learning. The education sector is also slowly catching up with some of the latest technologies. Artificial Intelligence, Machine Learning and other data-driven technologies are changing the way students learn.
Artificial Intelligence (AI) is an emerging trend that is being used in many ways to create new, innovative technology. However, Artificial Intelligence is also slowly beginning to be implemented in e-learning in a variety of interesting ways. Using AI for educational purposes can make the process of learning more efficient and more effective for students.
Here are some of the leading roles that artificial intelligence is playing in education:
Artificial Intelligence has created a lot of buzz in the education sector. More and more schools are incorporating AI into their curriculums to help students learn faster, have fun while doing so and perform better than ever before. Educational institutions are taking advantage of this technology because they recognize its potential to revolutionize the classroom experience. There are many ways in which artificial intelligence is benefiting the education sector:
Personalization: Personalization is a trend that has been gaining momentum quickly over the last few years. It's an approach to education that involves providing students with a learning experience that is tailored to their unique needs and characteristics. The goal is to help each student learn at their own place and teach them in a way that matches their learning style.
Automation: The use of technology in classrooms is growing day by day. Teachers are being faced with the challenges of managing their time and resources to effectively teach students. These challenges can be addressed by automating processes, leaving more time for teachers to focus on their core competencies where they can make a difference.
Smart Content Creation: AI can help teachers create smart content that makes teaching and learning more comfortable and enjoyable for them and as well as the students. It helps teachers create different content types such as Digital lessons, information visualization, learning content updates, etc.
Global Access:Rather than face learning barriers like language, location and money, technology can help utilize the best resources in the world to make higher education accessible to anyone. By using AI, you can use your computer to teach anyone, anywhere in the world, including those who speak different languages or have hearing or vision problems.
Interaction: Using AI in providing students quick answers to their questions using existing knowledge bases. The instructor will be able to design questions that are answered using AI. The goal is to provide students with answers to their questions quickly and without involving the faculty. This system will also allow students to submit questions anonymously, reducing their fear of asking questions and that they can get help on any topic at any time of the day with AI bots.
AI-powered LMS has the power to optimize both learning and teachinghelp education sector evolve to better benefit students and teachers alike.
LearnOnAir, an exclusive Udemy clone script is one of the best online education management system website helped many professional educators, teachers, professors, students and many people to come up with the desire to teach and learn respectively, in an engaging way. It is a ready-made app that helps outstanding an education model course in the online learning educational market.
Here are some of the latest features in LearnOnAir:
Easy-to-use Interface: It gives the best learning systems profile making, it's interface quality is matchless. It allows the educators to create any highly subjective e-learning module using documented files, videos, audio files, etc. Educators can build an end number of courses and manage courses for the students to access them.
Admin Dashboard: LearnOnAir includes the classic Admin Dashboard that is loaded with all the settings and features to manage all the aspects and analytics over the platform.
Offline Reading Access: it offers offline reading access section for the learners. The users can download the related study materials anytime, anywhere and can read it offline on their Laptop, PC or Tablet. This will come to be very handy when they are travelling or when there is no internet connectivity.
Content Management System: Admin can easily create and manage all the content available on the pages such as Blogs, FAQ's, Portfolio, Homepage, About us, Careers, Services, etc. It is more attractive for the admin to use this tool as it makes it handier and easy to upload or manage content very effectively.
Reports and Analysis: LearnOnAir gives you the feature to manage and identify various required reports and analysis.
LearnOnAir is an e-learning software that allows you to create structured courses and add everything from audio, video, text, interactive content, images, etc. This course builder platform comes with a dashboard that gives you the feature to manage and identify various required reports and analysis.
 You can download LMS app from Linkwell Systems at best possible price!
We, Linkwell Systems has a dedicated team of designers and developers who create the most innovative education apps like Learn On Air for Android & iOS platforms and other web application & mobile apps as per the clients requirements.
Signup forLearn On Air LMS appnow or contact support@linkwellsystems.com for further inquiries and clarifications!!!