What makes the best Udemy Clone Script?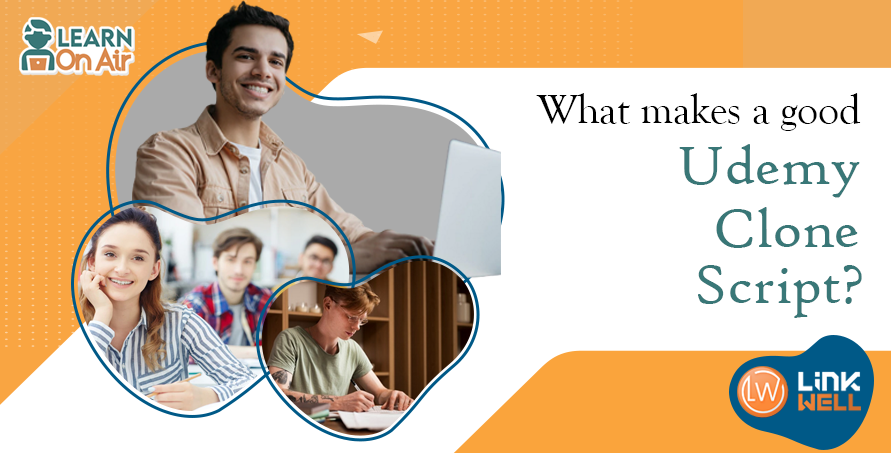 The Covid-19 pandemic has had a huge impact on many industries, causing some to shut down completely while others saw sustained growth. e-Learning is doing well and is one of the few industries that are actually in an upswing during this period. People look for ways to occupy themselves when they're stuck inside, which makes the e-Learning market very attractive to entrepreneurs. Platforms like Udemy make it easy to provide courses on anything you're interested in.
We recently published the first part on this topic: 11 Strategies to improve your Learning Management System. If you want to learn about e-Learning platform owners, how they started and what are their main challenges and experiences. Now we present you with an interactive timeline, the most interesting and insightful factors we met throughout our research! Here is our experience, learn and grow by working and supporting an industry facing a new wave of growth!!!!
Today we will see what are the factors and functionalities that make a great Udemy Clone Script.
1) Find a good Udemy solution
2) Build a great user experience
3) Launch your own education solution for any kind of elearning platforms
4) Support your community
5) Ask questions
It will change YOUR life.
What is Udemy Clone Script?
This blog post will share about the udemy clone script – Learn On Air. I have written this blogpost for all the business owners who want to get their online training business ahead in a short time period. In my opinion the best blogs will help you to gain more information and know-how. This short article on this topic is going to help you to get more out of this type of blogpost and it's the same type that you have been looking forward to learning about. Let's start!
What Is udemy clone script? Udemy clone script is like a replica of the Udemy platform that allows users to create their own online learning platform like Udemy. Once the user has created these courses, he or she can sell them on the marketplace and the users can access these courses easily by signing up into the platform. Udemy clone script is used in order to make a website by copying all the courses (courses are similar courses on different topics) provided by Udemy, however, with your own content instead of a course. The main purpose behind making such a site would be to sell your course (and earn money from it) and share your product (course) on other websites as well. For that to happen, one must know how exactly Udemy clone script works. Here we will discuss that. So let's move ahead. If you haven't read any of our previous articles about udemy clone script, please go through that first.
Personalize Learning: Personalized learning is about personalized teaching methods that take into account the needs of each individual student. With technology improving all the time, it's possible to have an even more personalized learning experience with Learn On Air. For example, teachers can use other digital tools to assess their students' progress and struggles.

Gamification: Making your online tutoring platform game-based just like the udemy clone is becoming increasingly popular and for good reason. Gamification processes using levels, points, badges, and leaderboard makes teaching more fun and engaging for students.

Augmented Reality and Virtual Reality: AR/VR technologies integrated in Learn On Air will allow you to deliver an immersive, rich experience to your audience. In turn, user retention and engagement will increase – as well as productivity! And with such technology your Udemy clone app will stand out in the highly competitive market today.

Reducing Commute Time and Cost: Online tutoring platforms such as Learn On Air can put an end to the need for both learners and tutors to travel, saving a great deal of both time and money. Most of us have learned to operate in a culture that's set up like this, which places far too much value on transportation.
These were the some of the major reasons behind the excellent Udemy Clone App and now we will look at the advanced feature that Learn On Air provides:
Straightforward User Interface
Grouping Students
Create private or public sessions
Create multiple sessions in one go
HD Resolution Video and High-Quality Audio
Interactivity
Website Security and Firewall
Site information Update
Forum Management
Internal Management System
Email Templates
SEO Friendly
multi-language setting
Course Discussion
Transaction Management
Course Certifications
This open-source code is the smartest source of development of e-learning software with excellent features, functionalities and eLearning tools. The Internet is everywhere today, even educational platforms choose to use the internet for teaching or learning purposes since it's time and money saving. Unlike academic programs offered by traditional colleges and educational institutes, Learn on Air enables experts in different niches to create and offer courses and course materials to the public, at a cost or for free. The Advanced technology in our udemy clone offers a better learning experience. Go to our official website Linkwellsystems.com to know more about our products.
We also customize the products according to the clients' requirements. You may contact the support team at support@linkwellsystems.com for further details.