Reasons Why Udemy Clone App is Getting More Popular in the Past Decade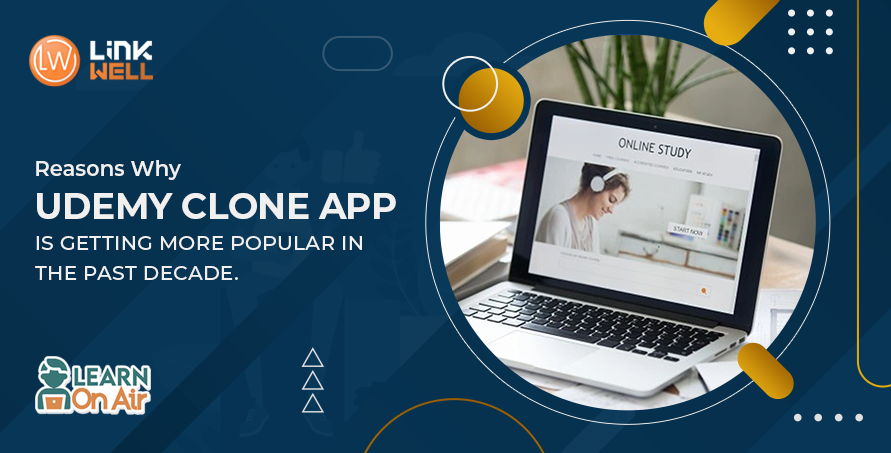 LearnOnAir, an exclusive Udemy Clone Script is one of the best online education management system website in 2021-2022, it has helped many professional educators, principals, teachers, professors and many people to come up with the ideology of selling their experience online for teaching. Simply not to be overwhelmed by any of the big shot thoughts, you as a well-educated or well-experienced person can now easily come online to share all your experiences and sell them with less or high cost. That depends upon your way of selling your course.
But what is the use of LearnOnAir Udemy Clone App?
LearnOnAir Udemy clone appis the best open source for your online education system and it helps you to be the excellent one and stand out with ease in the market. Easily you can fight your lifestyle with lots of money to earn just by selecting your best teaching topics and getting the course formatted on PDF files, on images, videos, and applying it for the best use of making one or ten subject courses. LearnOnAir, is nothing but an udemy clonewhich is the ready-made app that helps outstand an education model course in the online learning educational market.
You mustbe having this question: how can I start with LearnOnAir Udemy clone app? From where should I buy it? Well at Linkwell Systemswe have experts who will help you build your cloned app and set all the required technical development content to be placed and designed properly without any technological interference. You can now easily call us on any of the given contact details to know more on how will the Udemy clone app be beneficial for you.
Creatively use LearnOnAir for Business Training or Online Students
The interesting thing to follow about the LearnOnAir app is to set a proper layout for your business model using a business training course or any online course that can benefit people globally. Probably it can be from learning English to learning all about science, history and other subjects.
Businesses on LearnOnAir Udemy Open Source Code Application
Business training documents can be many as such as the following:
You can add all kinds of training modules,
Sales training
Marketing training
Cook training
Shipping training
Teaching methods
Crafts and art classes
And there are so many courses as you can build with the LearnOnAir app to be the most attentive and attractive courses for people who are always searching for.
LearnOnAir App can be used by any Person
Udemy Open Source ScriptApplication was not always given importance in the last few years, in fact, this year and the years to come, it will only be the source of learning, earning and also for career growth options. This is very simple and in fact, it is moreover useful that you start using this udemy clone app script more than before. You can start using it by making a series of training courses for your audience and getting the best response from your own companies, people around you.
As a personal brand identity can you always share your teaching experience with people or students, this gives value to your brand identity. You can make the model course on the LearnOnAir udemyclone app available atLinkwell Systems.
LearnOnAir for your Company
LearnOnAir application is the most powerful adventure application that can help you build an amazing and mind-blowing application for company training purposes, this training can be sold online or can be used only for the company. There are different ways to develop the inbound one like if you notice, the company inbound LMS course will be way different that should be informed to our experts and we will manage it well for you.
5 Things to keep in mind to be a Successful Udemy Clone App user for an Educational Business
Stop comparing
Start gathering your course ideas and plans
Start helping yourself you make be more offering and beneficial for other
Plan for how much cost you will sell
Is the course much beneficial to a global audience
"Linkwell Systems help you to create a Global Teaching Platform using Learnon Air"
Finally, don't feel that you're new or unaware of how to build a course online using LearnOnAir.
SIT BACK! RELAX!! Ask Linkwell Systemssupport team at support@linkwellsystems.com