Learn How to Make More Money with e-Learning Software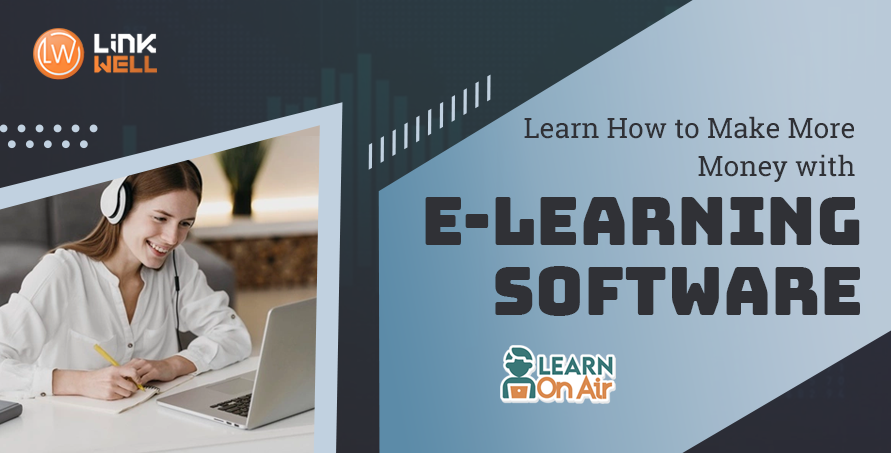 A thriving tutoring market is brimming with limitless possibilities and the udemy clone has a wide range of features that make the online tutoring app a.k.a. e-Learning software named "Learn On Air" by Linkwell Systems stands out. Many platforms similar to udemy have established a dominant position in the online tutoring market and have become an integral part of this digital era, in which people have become completely reliant on technology and gadgets for almost everything, including education.
The Popularity of e-Learning Software
Even during the covid-19, e-Learning was seen as a saviour, as it was able to keep the educational ecosystem afloat by incorporating virtual classrooms and virtual tutoring marketplaces. This tutoring marketplace is exploding with opportunities, not only for students and professionals who are using the platform to improve their skill set, but also for tutors, educators and instructors who are gaining access to a world-class global platform to impart education and instil a wide range of skills in students. Furthermore, such platforms include features such as personalization and flexibility, making them even more user-friendly.
How to earn profits and make more money with e-Learning Software?
Find your niche and learn everything there is to know about it –

Recognizing your niche inside and out allows you to capitalise on your expertise and experience, whether it's designing live training events for corporations or creating content as a subject matter expert. To develop your brand and market yourself effectively, research numerous components of e-Learning, such as e-Learning course design and development, to ascertain your core strengths and learn as much as you can about your specialisations.

Find a way to stand out –

Try and understand what distinguishes you from your niche's competitors? Take the time to determine where you truly excel and shine so that you can reach out to your target audience and provide them with something truly unique. Maybe you have a lot of experience with a specific LMS, or you're one of the top storyboard creators in your industry. Examine the services of your competitors, whether they are e-Learning freelancers or companies, to see how you can set yours apart.

Take advantage of new e-Learning Technologies –

Keep up with new e-Learning technologies and trends that appear to be a big part of the future of e-Learning, and become an expert in the cutting-edge tools and apps that are being used today. Given that many other professionals will not have the same in-depth knowledge of a useful tool or platform that can be beneficial when designing an e-Learning course or module, this will give you a significant advantage in e-Learning.

Create e-Learning courses and sell them on a per-use or subscription basis –

Create e-Learning courses, modules or educational videos and then charge per use or offer a subscription service. If you are already a subject matter expert or know a lot about a specific process or task, this is a good way to make money as an e-Learning freelancer. Indeed, you could amass a sizable e-Learning course library with the potential to generate revenue.
So, if you want to monetize and earn profits from your e-Learning app or website by creating a marketplace, then contact Linkwell Systems and opt for Learn On Air. Get in touch with Linkwell Systems support team at support@linkwellsystems.com for further discussions on e-Learning software.